Buy Software On-Line!

New Guitar Chords Section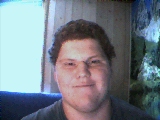 Welcome to The Contaminated Web!
My name is James Gagne. I live in Fairhaven, Massachusetts. I've built many websites before for other people/groups/businesses, with my own business, Gagne Internet Services, but never have I made something for myself. Therefore, I've made this site - The Contaminated Web. I call it that because I believe that anybody who makes a personal site is contaminating the web with junk. No offense to anybody, because I'm contaminating it now as well!
I'm 16 years old, 6' 5", and weigh 295 Lbs. I'm a big 16 year old! I run Cross-Country (FALL), Winter Track, and Spring Track for Fairhaven High School. I throw shotput and discus in track and in Cross-Country, I actually run the whole way! In my spare time, I like to play my 12-string guitar, build websites, do computer programming (BASIC, Pascal, HTML/Java, Javascript), sing, listen to music (60s, 70s, 80s, and very little 90s), and do stuff with the Boy Scouts. I'm a Boy Scout of Troop 55 in Fairhaven, MA. You can find a site on them that I made in my PROJECTS section above. As for my guitar playing, well...I taught myself via Internet about a year ago now. I can play America, tons of Jimmy Buffett, Pink Floyd, Harry Chapin, Neil Young, James Taylor, Metallica, Moody Blues, Eric Clapton, Neil Diamond, Van Morrison, Allman Bros., Doobie Bros, some good ol' Elton John, and much more! I've got a 3-Ring binder filled up with music from the 'Net and it is a good 3"-4" thick.


Please enjoy my site. I'll update it from time to time. It's not going to be a big Web-Priority to me because I have other bigger, better projects on the Internet, but I will give it some effort.
I've included a few sections such as a PROJECT section where my Internet sites that I've created may be found. Also, a download section where you can download some neat things I've received / downloaded and a few of my own programs I made (BASIC, Pascal). There are a few other pages to the site as well, so please check them out! Thanks...

Email
Mother Russia: Live and Loud Emailing List

Get the latest updates and information
on Mother Russia's newest songs and more!
Hear it live and loud from the
home of James Gagne (Mother Russia) with style.

James Gagne
GAGNE1@prodigy.net
AOL Chat Name: GlowinGuy